UmtAudit
How it Works!
UmtAudit includes 3 comprehensive software modules: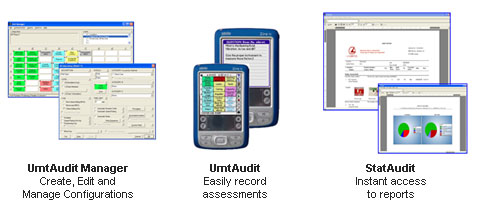 1. UmtAudit Manager
UmtAudit Manager is designed to allow you to easily create, edit and manage your audit at the comfort of your PC. Once you have completed your configuration, in a simple click you can transfer the study to any number of PDAs and you will be ready to start your assessment.
Did you forget to program a question? Don't worry, as you are able to add it directly into your PDA... the program is easy to use and made to be flexible!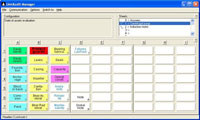 Click to Enlarge
UmtAudit Manager Worksheet
To the left is an example of the UmtAudit Manger worksheet - each cell can be programmed individually. Once transferred to a PDA, you will see three columns at a time, so you can design the layout to be easier to use.
Easily Program Each Key
Click the key you wish to program from the UmtAudit Manager worksheet, and simply complete the dialog box that appears. Remember - you have virtually unlimited amount of elements that you can program as either questions, or checkmark questions or answers.
Descriptive Criteria
Make answering questions easier by having criteria with pre-programmed text - all you have to do is choose the criteria that matches your assessment and the text is automatically inserted into your report. It's that simple!
The UmtAudit Manager Program has a wealth of features that help you to perform better audits faster. To learn more about how this program can benefit you, view our online demonstration
2. UmtAudit For PDAs
Record your assessments easily on a handheld computer - no more piles of paper!
UmtAudit is designed to facilitate and optimize your auditing process. Once you have completed your study, simply transfer your observations back to your PC and your audit report is ready!
Want to know how the study is going? On your PDA you can review your statistics in real time.
Below is an example of what UmtAudit can look like on a PDA. Not only are PDAs easier to record data on, they are also useful for storing all of the information that you may need to make an accurate assessment.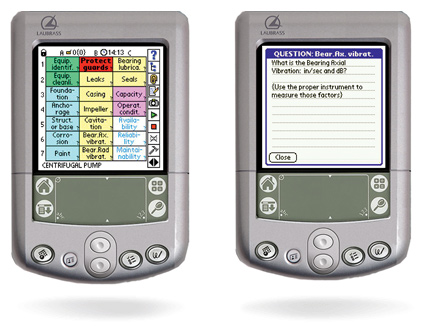 With UmtAudit™ on your PDA:
Simply choose the item that needs to be evaluated and all the information you need is there
Refer to programmed images or full text descriptions to help define the task
Easily click on your pre-programmed answers
Write freehand notes on your PDA
Add comments from a selection of pre-defined notes
DIRECTLY INSERT PERTINENT PHOTOS
Cut, Copy and Paste your observations
Collaborate with other auditors
Easy to use, Easy to train others to use.
And so much more...
The UmtAudit™ program has a wealth of features that help you to make your assessments more efficiently. To learn more about how this program can benefit you, please view our online demonstration.
3. StatAudit
Create Instant Comprehensive Reports Using StatAudit
Reports are immediately available once the data is automatically transferred
Pictures taken with your PDA are included as evidence
Reports are easily manipulated to facilitate analyses
ELIMINATE POST-AUDIT WORK, LET UmtAudit™ DO IT FOR YOU
Present professional documentation of the facts – at the close of the audit
Print reports directly from your PDA
Corrective Actions are categorized together
Send Corrective Actions back to your PDA for follow up audits
This statistical program offers a wealth of features that help you to analyze your data and share your results. To learn more about how this sophisticated software can benefit you, please view our online demonstration.